Food Diary
This morning I woke up and decided I wanted to change things up with breakfast. I keep seeing green monsters on all the blogs I read and wanted to try my own. It was awesome! It's a really simple recipe and it tastes so good.. I just wish I'd tried it sooner!
Breakfast: Green monster (recipe from Oh She Glows). I also had two slices of Ezekiel toast and three egg whites.
Morning Snack: Apple
Lunch: Spinach & chickpea curry from Vegan with a Vengeance and quinoa. It doesn't look all that appetizing but it was delicious!
Afternoon Snack: Banana & an iced coffee.
Dinner: Kale salad (recipe from Oh She Glows). I'd been wanting to try this recipe for awhile now and finally had most of the ingredients on hand to make it. My version had kale, cucumber, tomato, sunflower seeds, avocado, carrot and a tahini dressing. Amazing!
There are insane storms here and more on the way so I'm outta here for tonight! The weather has been so weird lately and it's kind of freaking me out. Are any of you guys having crazy weather too? If so, stay safe out there!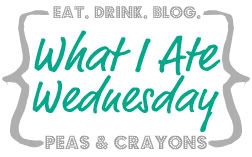 Be sure and check out what everyone's eatin' at the What I Ate Wednesday party! I love it because I find so many new bloggers & recipes from there!
Uncategorized
| Tags:
Breakfast
,
Dinner
,
Food Diary
,
Juice
,
Kale
,
Lunch
,
Quinoa
,
Recipe
,
Vegan
|
18 comments