Food Diary
First things first! I made some coffee, but before brewing I added some sweetened cocoa powder and cinnamon to the grounds. I normally do this with pumpkin spice but I was out. I added a bit of unsweetened almond milk and it was delicious.
Breakfast was three eggs (2 whites, 1 whole), sprinkled with nutritional yeast and wrapped up in an Ezekiel pita.
I set up shop in Starbucks again yesterday but it was super busy and I couldn't sneak a good shot of my drink so I used my photo from Monday. I had a tall unsweetened iced coffee with half a pump of pumpkin spice syrup. I also snacked on peanut butter filled pretzels. Those things are seriously addictive!
I got home and immediately had a tiny chocolate chip cookie.
I had leftover cheezy taco mac for lunch and dinner. That stuff is just so good!
Before bed I had some plain Greek yogurt with agave and vanilla hemp seed granola. I totally forgot to take a photo. I also had a ton of water throughout the day.. probably somewhere around three liters.
Be sure and head over to What I Ate Wednesday and check out what everyone else is eatin'! There's always some incredible recipes to be found!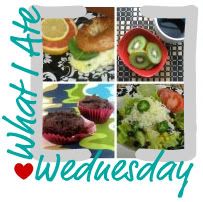 I hope you all have a wonderful Wednesday!
Uncategorized
| Tags:
Food Diary
|
21 comments