Food Diary
I woke up early, packed Greg's lunch and started working on breakfast when Hello Kitty reminded me what time it was.
I made an omelet with one egg, two egg whites and nutritional yeast and then wrapped it in a toasted Ezekiel pita. Pepper thinks any food in your hands must be his and will just sit there and creepily stare the entire time I'm taking photos.
I had a tofu fudge brownie too. These things are just so good that I couldn't wait until lunch to have one.
I didn't have much food in the fridge so I decided to make a quick trip to the grocery store so I'd have something for lunch. Here's all my loot!
I bought a ton of food at the store but didn't feel like making anything so I picked up some sushi while I was there. When I was little I would always go with my mom on grocery shopping trips and we'd buy a ton of food and then stop and get fast food before heading home. I always thought it was so funny, but now I totally understand.
I also stopped by Starbucks and got a tall unsweetened iced coffee with soy.
I had a snack of apples and almond butter later on in the day. I also baked some sweet potato fries later on and totally forgot to take a photo.
When Greg got home I made mini squash pizzas again. These things are so good!
I ended the night with chamomile tea and a bit of agave nectar.
Be sure and head over to What I Ate Wednesday and check out what everyone else is eatin'! There's always some incredible recipes to be found!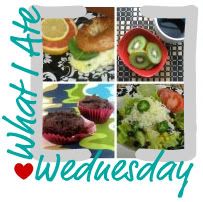 I hope you all have a wonderful Wednesday!
Uncategorized
| Tags:
Food Diary
,
Grocery Haul
|
24 comments