What I Ate Wednesday
The usual breakfast for me is a couple of eggs on a slice of Ezekiel bread along with a mug of coffee with almond milk and some water. Yesterday was different though since I had two chocolate chip cookies when I was up at 6 feeding Waves. After that I went back to sleep and when I woke up I had the usual.
For lunch I put some brown rice in the rice cooker and heated up a few different frozen veggies then topped with Thai yellow curry sauce from Trader Joe's. I used a bag of mixed veggies (corn, green beans, and peas), cauliflower, and a couple of potatoes.
I will make a huge batch of whatever I am cooking for lunch and eat it throughout the day. It's easier for me to do that because I have been eating constantly since I've been breast feeding.
Dinner was nachos which I had a serious craving for. I heated up a jar of queso, poured it over some chips, and topped with tomatoes, jalapeños, and Greek yogurt. I went back for seconds on the nachos—they were so good!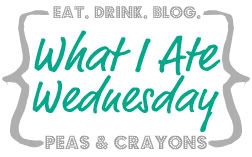 What I Ate Wednesday
|
2 comments