Tag Archives for Juice
This morning I woke up and decided I wanted to change things up with breakfast. I keep seeing green monsters on all the blogs I read and wanted to try my own. It was awesome! It's a really simple recipe and it tastes so good.. I just wish I'd tried it sooner!
Breakfast: Green monster (recipe from Oh She Glows). I also had two slices of Ezekiel toast and three egg whites.
Morning Snack: Apple
Lunch: Spinach & chickpea curry from Vegan with a Vengeance and quinoa. It doesn't look all that appetizing but it was delicious!
Afternoon Snack: Banana & an iced coffee.
Dinner: Kale salad (recipe from Oh She Glows). I'd been wanting to try this recipe for awhile now and finally had most of the ingredients on hand to make it. My version had kale, cucumber, tomato, sunflower seeds, avocado, carrot and a tahini dressing. Amazing!
There are insane storms here and more on the way so I'm outta here for tonight! The weather has been so weird lately and it's kind of freaking me out. Are any of you guys having crazy weather too? If so, stay safe out there!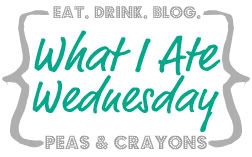 Be sure and check out what everyone's eatin' at the What I Ate Wednesday party! I love it because I find so many new bloggers & recipes from there!
While I didn't get up this morning to work out (ugh, so lazy!), I did go to spin. Class is only 45 minutes long, but I got there pretty early so I just started spinning on my own and burned around sixty calories before class even started.. not bad, huh?
So far, I'm doing pretty good as far as my weekly goals go.
Sunday – Spin
Monday – Strength (I did Jillian's Shred-It with Weights and burned 245 calories)
Tuesday – Spin
Wednesday – Yoga
Thursday – Spin
Friday – No class
Saturday – Spin
I didn't make any food related goals since I've stopped tracking my foods for now. I've eliminated so many bad and processed foods that it's really not necessary anymore. I'm really happy and feel much better after eating fresh, clean, whole foods. Speaking of, I broke out my juicer after spin class and used up some carrots I had in the fridge.
Plain carrot juice isn't that great or exciting, but I know it's good for me.. makes me think of King Curtis from Wife Swap – bacon is good for me! I'm going to check out some juice recipes and go buy all the ingredients at the co-op. I'm excited about having fresh juice every morning! It just seems like a perfect way to start the day. It will be even better if I can get a workout in too, but that snooze button gets me every time- I am so not a morning person no matter how bad I want to be.
I saved all the pulp from juicing the carrots in case I could use it for something. I'm assuming I can bake with it, right? Is there anything else I could use it for that I'm not thinking of?
Tomorrow is yoga class and I'm hoping it's not too slow paced. I am the most impatient person in the world and all the yoga classes I've taken before just seem to drag on and on. I guess the whole point of yoga is to just chill out and it will help me slow down and gain more patience, but I have to take it more frequently. It will definitely be good to stretch and relax for awhile after work though.
I found a hot yoga class here but it is an hour and a half long. Are they for real?! I really want to take it, yet I'm not so sure I can handle that so soon. It's 26 poses in 90 minutes in a 95-105° room.. sounds so interesting, but I'm gonna have to work up to that one I think!