Tag Archives for Lunch
Breakfast: Two slices of toasted Ezekiel bread with three egg white and iced coffee with unsweetened almond milk.
Morning Snack: Apple
Lunch: Kale salad (recipe from Oh She Glows). Stir-fry using a bag of frozen mixed veggies and this sauce I made the night before. The sauce was really good! The recipe called for anise stars which I didn't use and it still turned out fine. I had never heard of that spice before, but it is beautiful! Check it out:
photo source
Pretty neat, huh?
Here's me enjoying my lunch at my messy desk. Stir-fry.. MMM! :]
Afternoon Snack: Banana
Late Afternoon/Pre-Workout Snack: Ezekiel pita bread with almond butter. I ate half the pita with almond butter when I got home and when I realized I forgot to take a photo. I knew the right thing to do was eat the other half in order to take a photo so you all could see. :]
I wanted to work out but I didn't feel like strength training or intense cardio so I went with Bob Harper's yoga DVD. I've had this for awhile but never done it. Hour long workouts are just so hard for me to get into unless it's a group exercise class with someone really there to motivate me.
This yoga workout was really awesome though. It's a bit of strength, but the stretches are so good and there's modifications for all the moves. The hour actually went by quickly which was great because…
I wanted to catch up on Secret Life! I always bring my laptop in the kitchen to clean or cook while watching tv shows so I feel productive. I got to work on dinner and followed along with the drama while chopping onions, garlic and ginger.
Dinner: Chickpea & eggplant curry from Appetite for Reduction that was enjoyed on the front porch with Greg & Pepper. I wish I could share the recipe with you all because it is amazing! I've loved every recipe I've made from this cookbook so far, but I think this is my favorite.
After dinner we went on a walk around the neighborhood so Pepper could get some energy out. After every walk, the minute we take the leash off, Pepper goes crazy and rolls and rubs his face all over the carpet. It's pretty funny but kinda weird. Does anyone else's dog do this?!
I'm off to pack lunches and get my gym bag ready because I'm going to try and make a strength class after work. I hope you all have a wonderful Wednesday!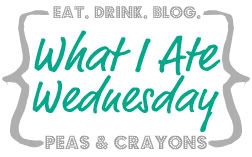 Be sure and check out what everyone's eatin' at the What I Ate Wednesday party!